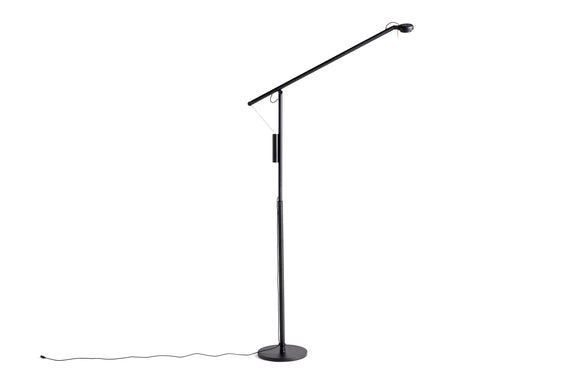 HAY Fifty-Fifty Floor Lamp
---
UK shipping from £14.95
Limited Time Only
The HAY Fifty-Fifty Floor Light, designed by Sam Weller, this lamp is named Fifty Fifty after the counterweight system that creates equilibrium between the two parts, it is clear to see how Sam Weller's engineering and physic background have influenced the design. The single cantilever arm is easy to tilt and pivot with one hand, featuring a touch-sensitive dimmer switch for precisely positioning and controlling the light source. Based on the idea of stripping a multi-purpose task light to its fundamental elements, Fifty Fifty balances refined, pared-back aesthetics with optimal functionality.
The Fifty-Fifty Lighting collection comprises table and floor lamps with weighted bases in large and small sizes.
Colour:

Body:Soft Black (RAL 9004) / Ash Grey (RAL 7035)
Interaction Points: Pure Orange RAL 2004
Fixings, soft TPE components and the cable are black for all colour options.

Size:

H: 135 x D: 90 x W: 25 cm

Material:

Body: Extruded aluminium arms with die cast aluminium joints and head.

Base: Extruded aluminium tube with die cast aluminium inserts. Machined steel plate base plate with foam pad protector.
Cord: 200 cm long silicone cable

Integrated LED module included with an estimated life span of 25.000 hours of use.
Integrated touch step dimmer switch.
Table and floor lamps suitable for both private and office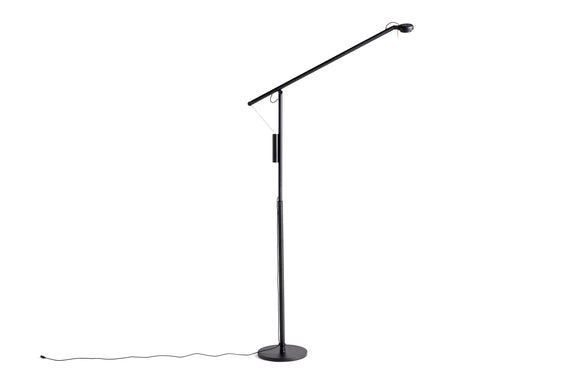 Everything you need to know about HAY
HAY has always believed that good design is everyones right. That's why from the very beginning in 2002, co-founders and creative directors Rolf and Mette Hay committed to working the best designers to create high-quality products, made for the evolving needs of everyday life. Constantly striving to make good design accessible to everyone by supplying their trademark designs with affordable price tags. HAY is committed to nurturing and promoting young talents as well as using established designers.
Explore HAY